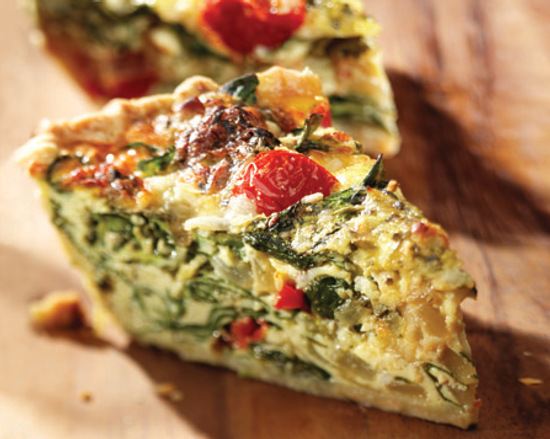 A Basic Quiche
Quiche (or, Egg Pie, as our neighbor Fred insists on calling it) is a very simple meal that is child's play to prepare if you have a few guidelines. Depending on your choice of ingredients, you can make Quiche for a lighthearted breakfast or a hearty dinner. It's great for using up leftovers. I like to make several
of them when I'm baking so that we have leftovers to be reheated for snacks or a quick breakfast or lunch.
Here is a basic recipe that you can use as a guideline to create your own masterpiece!
Basic Quiche
9 inch pie shell (Baked or unbaked, do you like it crispy or dough-ey, you decide)
½ to 1 Cup Shredded Cheese, your choice (I used Cheddar, Fred!)
½ to 1 Cup Filling (I used THRIVE Sausage, THRIVE Red Bell Peppers, right from the can)
6 eggs (We have chickens, but THRIVE Whole eggs or THRIVE Scrambled eggs would work well)
1 Cup Milk ( or 3 T THRIVE Instant Milk, reconstituted to 1 C)
½ tsp Dried Thyme , Marjoram and other herbs (I added THRIVE Salad Herbs, THRIVE Parsley in with the thyme)
½ to 1 tsp Salt
STEP 1: Preheat oven to 375 F
STEP 2: Spread cheese in bottom of pie shell.
STEP 3: Spread filling in even layer over cheese.
STEP 4: Beat eggs, milk, spice and salt in bowl until blended.
STEP 5: Carefully pour this mixture over the filling in pie shell. Some of it may rise to the top—that's ok.
STEP 6: Bake in center of oven 30 to 40 minutes until the center jiggles and is almost completely set. A knife inserted into the center will come out clean. Let cool for 5 minutes before cutting into wedges.
Italian version:
Use Sun Dried tomatoes, Thrive Chicken Dices, Thrive Sausage, Thrive Mushrooms,
Thrive Zucchini, and add Basil, marjoram and Italian seasoning to the spices.

Substitute any cooked veggies and meats. Basically, have fun experimenting! You can even experiment with the crust by using grains like rice, quinoa, etc. and mixing them with an egg before pressing them into your pie shell. I like to prebake these for about 15 to 20 minutes before adding the filling.