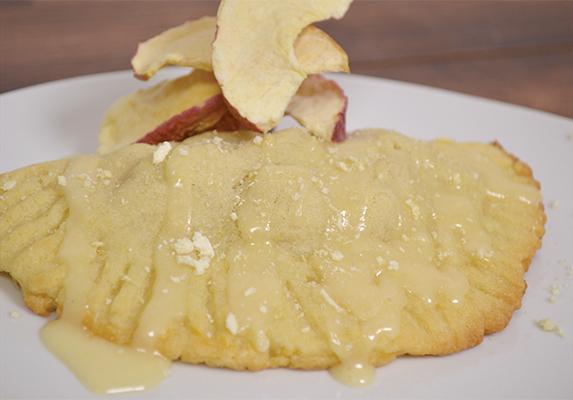 2h 30m prep time
10m cook time
16 servings
Apple Sugar Cookie Pies
By Thrive Life
An inventive way to use THRIVE Vanilla Sugar Cookie Mix! - by Todd Leonard CEC
Sugar Cookie Crust
1 can Thrive Vanilla Sugar Cookie Mix (pantry can)
1/4 c. White Flour (All Purpose Unbleached Flour)
Apple Filling
2 1/2 c. THRIVE Granny Smith Apple Slices
1/3 c. Brown Sugar
3 tbsp. butter
1/2 tsp. cinnamon
1/8 tsp. nutmeg
1/3 c. water
Pineapple Glaze
1 c. THRIVE Pineapple
1 1/2 c. Powdered Sugar
1/4 tsp. vanilla extract
1/3 c. water
Prepare cookie dough according to can instructions, adding the additional ¼ cup flour. Mix until dough pulls away from bowl.
Refrigerate dough for 2 hours (or roll out dough 1–2" thick and place in freezer for 20 minutes).
Break apple slices into small pieces and sauté with butter. Add cinnamon, nutmeg, and brown sugar and stir until sugar is melted. Add water and cook for 1 minute.
Remove from heat and blend in food processor until apple chunks are small. Place in refrigerator to cool.
Make glaze by blending dry pineapple to powder in a food processor. Combine all remaining glaze ingredients and stir until smooth.
After dough is cooled, roll into 2 oz. balls. Flour surface and rolling pin and roll out balls into flat circles.
Place 2 tbsp. filling in a small row on the lower half of the circle. Egg wash the edges of the cookie and fold over like a taco, crimping edges with a fork.
Bake on greased oven rack at 375°F for 9 minutes or until edges are golden brown.
Allow to cool and then spread glaze over the top of each pie.