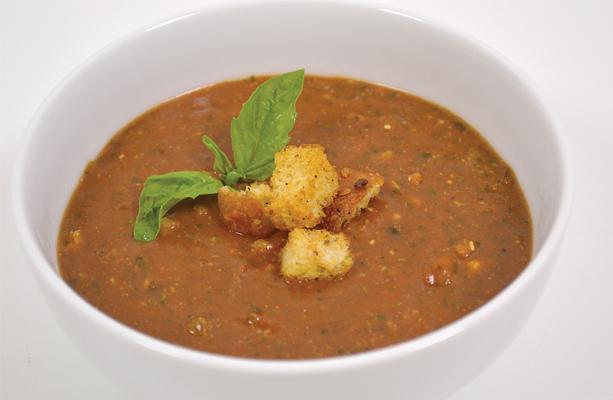 10m prep time
25m cook time
11 servings
Tuscan Tomato Soup
By Thrive Life
Add our delicious Basil Pesto to this soup to add the perfect kick of flavor. - by Todd Leonard CEC
1 tbsp. garlic, minced
1/2 tbsp. olive oil
1/2 c. THRIVE Chopped Onions - Freeze Dried
1/2 c. THRIVE Mushroom Pieces - Freeze Dried
10 c. water
1/2 c. THRIVE Tomato Dices - Freeze Dried
1/4 c. THRIVE Celery - Freeze Dried
1/4 c. THRIVE Carrot Dices
1/2 c. THRIVE Green Bell Peppers - Freeze Dried
1/4 c. Tomato Powder
1 tbsp. THRIVE Italian Seasoning Blend
1/2 tbsp. THRIVE Chefs Choice
1 tsp. Iodized Salt
1 tbsp. Worcestershire sauce
1 1/2 c. THRIVE Tomato Sauce
3/4 c. Basil Pesto (see recipe)
Croutons:
2 c. sourdough bread dices
1/2 tbsp. garlic, minced
1/2 tsp. THRIVE Chefs Choice
1/4 c. parmesan cheese
2 tbsp. olive oil
In a bowl, mix crouton ingredients together and toss to coat evenly.
Toast in oven for 12–15 minutes at 350 F or until lightly browned.
In a large pot sweat garlic and olive oil together until lightly browned.
Add onion and mushrooms dry and lightly brown. Add water and all remaining soup ingredients except tomato sauce and pesto and simmer for 5 minutes.
Add tomato sauce and simmer for another 3 minutes. Remove from heat and stir in pesto. Serve with croutons.