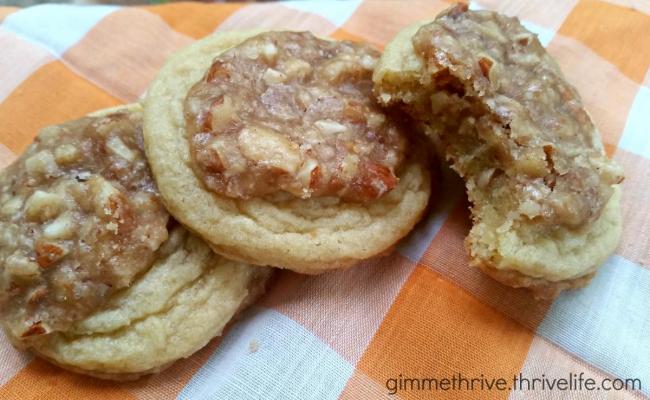 40m prep time
13m cook time
18 servings
"Gimme Thrive" Baklava Cookies
By Thrive Life
The topping for these cookies is so incredibly delicious, you'll be sneaking spoonfuls of it while you wait for the cookies to bake! Makes 3 dozen. - by Julie Finlayson
6 tbsp. butter
3/4 c. Powdered Sugar
5 tbsp. THRIVE Honey Crystals
1 tbsp. water
1 c. almonds or walnuts, finely chopped
1/2 tsp. Ground Cinnamon
1 c. butter, softened
2 tbsp. water
1 egg
3 1/3 c. Vanilla Sugar Cookie Mix
In a small saucepan, melt the 6 T. of butter over low heat. Stir in the powdered sugar, honey crystals, and 1 T. of water.
Bring to a boil, then remove from heat and add nuts and cinnamon. Set aside to cool for 30 minutes.
Preheat oven to 325 degrees. Spray a cookie sheet with nonstick cooking spray.
In a mixer, cream the 1 cup of butter for a few minutes until smooth and fluffy. Add in 2 T. water and egg and mix well, scraping down sides part way through.
Add in the sugar cookie mix. Mix well, until dough begins to clean the sides of the bowl.
Using a 1.25"-diameter cookie scoop, place cookie dough on cookie sheet leaving 2" spacing around each cookie.
Bake for 10 minutes.
Remove cookie sheet from oven and top each cookie with 1/2 to 1 Tablespoon of the nut mixture.
Return cookies to oven and bake for 3 minutes.
Allow to cool on the pan for a few minutes, then remove cookies to a wire rack to cool.