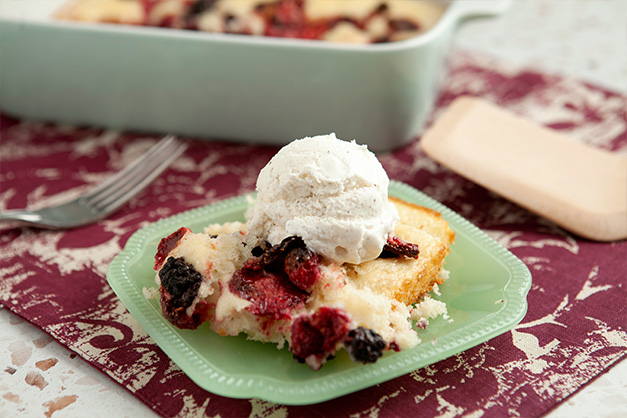 5m prep time
30m cook time
8 servings
Easy Thrive Berry Cobbler
By Thrive Life
Want a decadent dessert recipe that's easy to make? How about a triple-berry cobbler dessert that is filled with raspberries, blackberries, strawberries and perfect for topping with ice cream? Now that sounds good. This dessert is fun and perfect to make with kids.
FILLING
1/2 cup Thrive Life Raspberries
1/2 cup Thrive Life Blackberries
1/2 cup Thrive Life Strawberry Slices
2 Tbsp Granulated Sugar
1 tsp Lemon Zest
2 Tbsp Water
1 tsp Fresh Lemon Juice
1/4 tsp Salt
COBBLER
1/2 Cup` Milk
1 Tbsp Lemon Juice
3 Tbsp Unsalted Butter
1/2 Cup Granulated Sugar
3/4 Cup All Purpose Flour
1 1/4 tsp Baking Powder
Pre-heat oven to 375 F.
Toss berries with sugar, lemon zest, lemon juice and salt. Set aside.
In a small bowl, mix milk and lemon juice together and set aside.
In a medium bowl, whisk together sugar, flour, and baking powder. Add the milk mixture and whisk together quickly.
In a small container, melt butter, and pour it into the batter and wisk together. Pour batter into a greased 8x8 pan and spread evenly. Spoon berries evenly on the top of the batter, leaving 1/2 inch edge around the sides.
Bake for 30 minutes. Let the cobbler cool slightly and serve with ice cream.