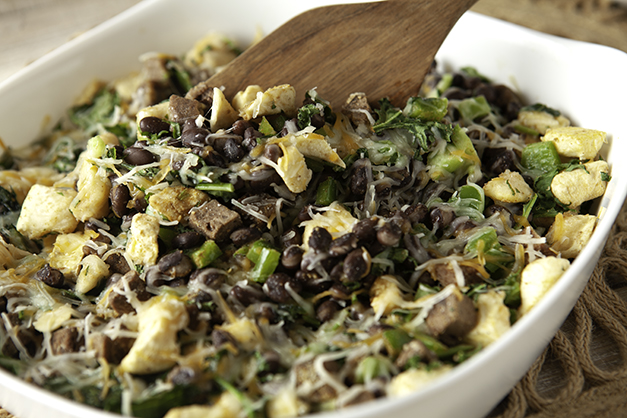 20m prep time
10m cook time
4 servings
Butternut Squash Casserole
By Thrive Life
Transition into spring with our cheesy dish of fresh veggies and savory winter favorites. Made with simple ingredients, this flavorful casserole will quickly become your go-to dinner staple. General Tip Seciton: Sauté garlic tossed Thrive Life Green Beans and Mushrooms while your casserole bakes for a full meal! Thrivealized recipe inspired by Jar of Lemons
3 cups Thrive Life Butternut Squash
1 cup Thrive Life Diced Beef
1 large bell pepper
1 cup chopped kale
1 tablespoon olive oil
1 teaspoon paprika
½ teaspoon garlic powder
1 15 oz can black beans (drained)
1 cup shredded cheese
Preheat the oven to 375 °F. As you preheat, reconstitute Thrive Life Butternut Squash and Diced Beef according to the package instructions. While reconstituting, chop kale and red pepper.
Mix the Butternut Squash, Diced Beef, red pepper, spices, black beans, half of the cheese, and kale in a casserole dish. Drizzle olive oil and top with remaining cheese.
Bake for 10 minutes and serve!