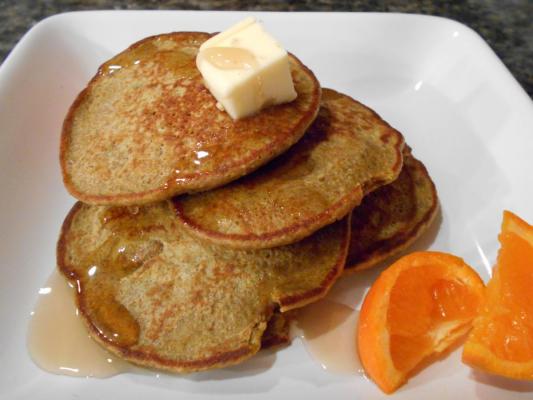 Baby's Carrot Cake Flapjacks
By Thrive Life · 2 servings
5m prep time
6m cook time
Wheat Free-Dairy Free pancakes that are high in fiber and veggies, but don't taste like it.
Print recipe
---
Ingredients
2 tbsp. THRIVE Carrot Dices
2 tbsp. THRIVE Chopped Spinach - Freeze Dried
1 c. Quick Oats
8 tbsp. THRIVE Scrambled Egg Mix
1 tbsp. Ground Cinnamon
1/2 tsp. Ground Cloves
2 tbsp. Coconut Oil
2 tbsp. Almond Butter
2/3 c. Almond Milk
1/4 c. Golden Seedless Raisins
1/4 c. Chopped Pecans
Directions
Combine carrot dices, spinach, oats, scrambled egg mix, cinnamon and cloves in heavy duty blender. Process until flour consistency. Reserve in small bowl.
Add coconut oil, almond butter, almond milk and raisins to blender. Blend until smooth.
Add reserved oat mixture to blender and mix until smooth. Add additional almond milk as needed for desired batter consistency.
Drop in nuts, blending only long enough to gently mix in. Drop by 1/3 cup scoop onto warm griddle. Cook until edges appear dry, about 3 minutes. Flip and cook thoroughly, about 3 minutes more.
---