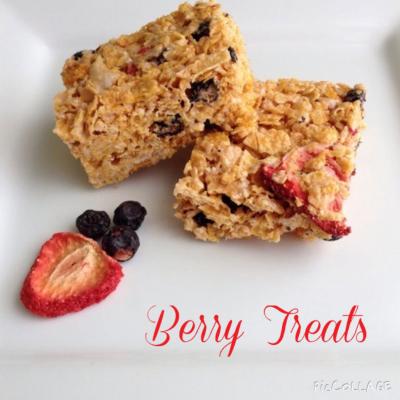 Berry Treats
By Thrive Life · 12 servings
10m prep time
5m cook time
Combine you favorite cereal and fruit with Marshmallows for a quick snack or breakfast treat. Have fun trying out different cereals, even the gluten free kind! by Missy Gooch
Print recipe
---
Ingredients
1 c. THRIVE Strawberry Slices
1 c. THRIVE Blueberries
6 c. Favorite Cereal I used Frosted Flakes
3 tbsp. Butter, salted or THRIVE Butter (reconstituted)
4 c. Marshmallows, the regular size package
Directions
Spray a large mixing bowl with cooking spray. Add cereal and fruit to bowl, stir to combine. Set aside. In another microwave safe bowl, melt the butter in microwave. 30 seconds.
Stir in marshmallows to melted butter. Microwave another 1min. Stir.
Microwave in 30 second increments until the mixture is smooth.
Pour marshmallow mixture over cereal and fruit and mix thoroughly.
Transfer to a Sprayed 9 x 13 pan. Pressing the cereal and fruit into the pan shape. Using a spray on the hands before pressing helps the messiness.
Let cool. Then cut into your favorite shapes. Enjoy!!
---