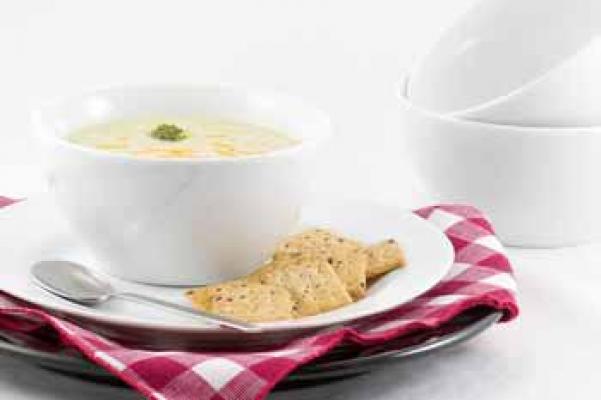 Broccoli Cheese Soup
By Thrive Life · 8 servings
10m prep time
20m cook time
This Broccoli Cheese Soup is creamy and great in autumn or wintertime for a warm meal. It can also be served with breads and crackers as an appetizer dish.
Print recipe
---
Ingredients
1/2 c. Butter or THRIVE Butter
1 c. THRIVE Chopped Onions
4 c. THRIVE Broccoli
7 1/4 tsp. THRIVE Chicken Bouillon + 7 1/4 cup water
2 lb. Processed cheese (cubed)
2 c. THRIVE Instant Milk prepared
1 tbsp. Garlic powder
2/3 c. Cornstarch
1 c. Water
Directions
In a stockpot, melt butter over medium heat. Cook onion in butter until softened. Stir in broccoli and cover with chicken broth.
Bring to a boil, then reduce heat and simmer until broccoli is tender (about 10 minutes). Stir in cheese cubes until melted.
Mix in milk and garlic powder.
In a small bowl, stir cornstarch and water until dissolved. Add mixture to soup. Cook over medium heat, stirring frequently, until thick.
---