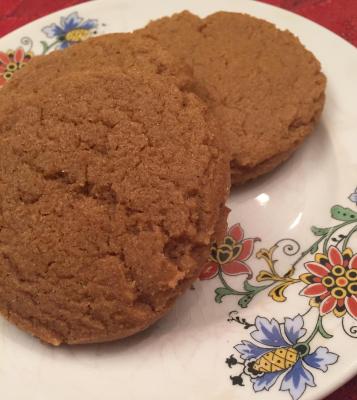 Cardamom Cookies
By Thrive Life · 20 servings
5m prep time
12m cook time
Deliciously spiced cookie that is so simple to make! by Holly Cooley
Print recipe
---
Ingredients
1/2 Cup Butter, salted or THRIVE Butter (reconstituted)
1 Raw, Whole Egg or THRIVE Scrambled Egg mix (Reconstituted
3 3/10 tbsp. Molasses
1 tsp. Ground Cinnamon
2 tsp. Cardamom
3 1/2 c. THRIVE Vanilla Sugar Cookie Mix
Directions
Preheat oven to 340 degrees
Mix together one half cup of softened butter; one egg, and 3 TBSP Molasses. Add Cinnamon and Cardamon. Mix well.
Add Vanilla Sugar Cookie Mix and mix well, till the dough comes together. About one minute.
Lightly grease baking sheet.
Using a small scoop. measure out dough into 1 inch rounds and place on cookie sheet. Using the bottom of a glass or palm of hand, press down each cookie about halfway.
Bake for 10 to 12 minutes, just till edges start to turn slightly brown.
Remove with spatula to cookie rack to cool. Makes two dozen cookies.
---