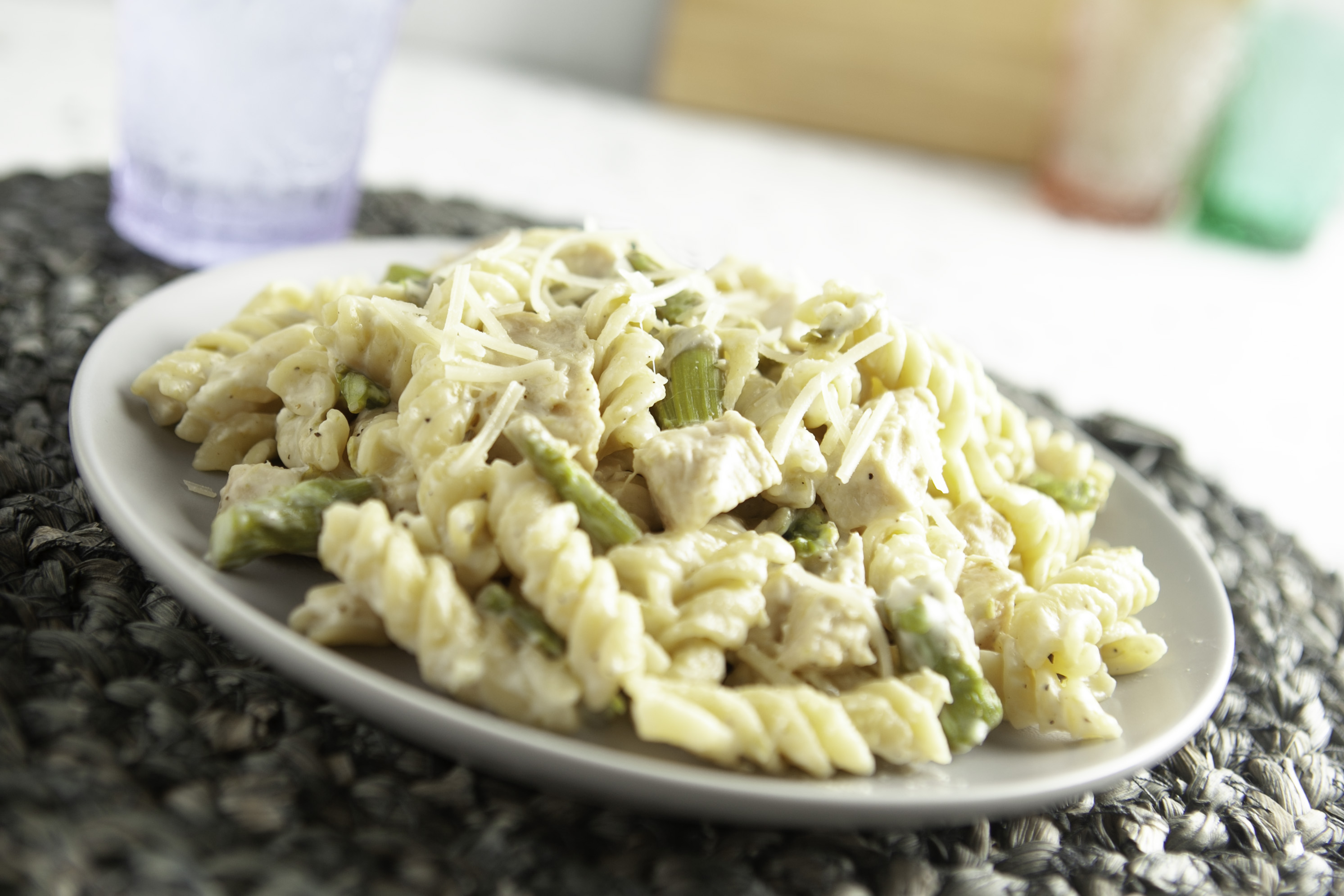 Creamy Chicken & Asparagus Pasta
By Polly A · 6 - 8 servings
10m prep time
10m cook time
A delectable, creamy chicken pasta topped with parmesan and garlic. This pasta recipe is quick and easy. Use your favorite noodles - penne, rotini, linguini, or anything else! The asparagus in this pasta makes a great addition. Not only is it a healthy way to get your veggies, but it is also a great texture and taste that nicely complements the chicken. This is a great recipe for lunch or dinner, and kids will love it!
Print recipe
---
Ingredients
4 cups rotini pasta
1 tsp oil
1 pound boneless skinless chicken breast
1 1/2 cup Thrive Life Seasoned Chicken Slices
1 1/2 cup Thrive Life Asparagus
3 cups chicken broth*
2 cups Thrive Life Sour Cream Powder
1 tsp garlic powder*
1/4 cup grated parmesan cheese
*Thrive Life Seasoned Chicken Slices, Vegetarian Chicken Bouillon, and Garlic make great substitutions.
Directions
In sauce pan, cook pasta following the directions on the package.
Heat oil in a large skillet over medium-high heat. Dice Chicken breast and brown in the skillet reducing heat and cover with a lid.
When chicken is cooked through, add asparagus along with the chicken broth. Whisk in Sour cream powder, add garlic powder. Simmer.
Once pasta is ready, strain water and stir into chicken and asparagus mix. Let simmer siring occasionally until sauce is thickened.
Add parmesan cheese and salt and pepper to taste.
---