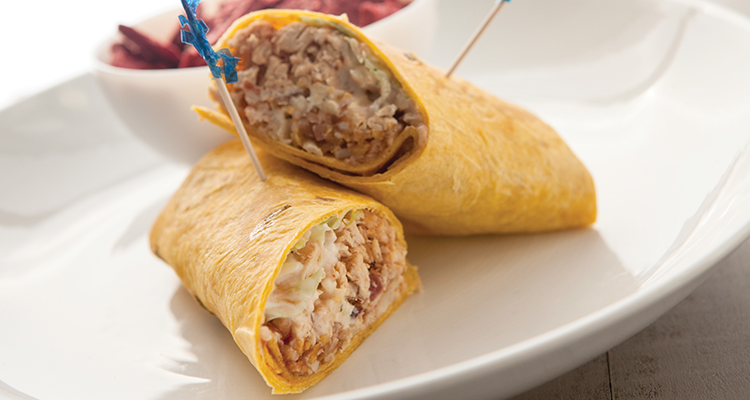 Crunchy BBQ Ranch Chicken Wrap
By Thrive Life · 4 servings
This crunchy BBQ-ranch chicken wrap will satisfy all your lunch-time taste buds. by Todd Leonard CEC
Print recipe
---
Ingredients
1 3/4 c. THRIVE Chopped Chicken - Freeze Dried
3/4 c. Water
1 tsp. THRIVE Chefs Choice
1/4 tsp. Smoked paprika
1/2 c. BBQ sauce, divided
1/4 c. Ranch salad dressing
4 sli. Bacon, cooked & chopped
1 c. Shredded lettuce
3/4 c. THRIVE Shredded Monterey Jack Cheese -
3/4 c. THRIVE Shredded Cheddar Cheese - Freeze Dried
3/4 c. Frito corn chips, lightly crushed
4 c. Tortilla wraps of choice (spinach, jalepeno, or chipotle go great
Directions
Reconstitute chicken with water, seasoning, paprika, and 1/4 c. BBQ sauce. Let sit while preparing other ingredients.
Spread 1 tbsp. of BBQ sauce and 1 tbsp. of ranch on every tortilla.
Top tortillas with lettuce, cheeses, and chips.
Fold ends of tortilla into the middle and roll tightly.
Wrap in plastic wrap to hold form, or place sandwich pick into each half, and cut on diagonal.
---