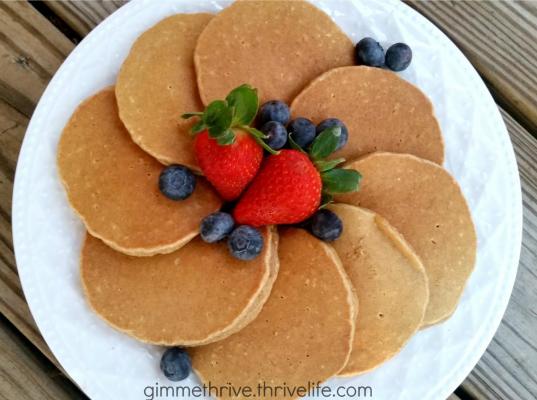 "Gimme Thrive" Blender Pancakes
By Thrive Life · 4 servings
10m prep time
10m cook time
No wheat grinder required! Get your blender out and enjoy! Makes about 16 pancakes. by Julie Finlayson
Print recipe
---
Ingredients
1 c. buttermilk
1 c. Hard Red Wheat
2 THRIVE Scrambled eggs
1/2 c. THRIVE milk
1 tsp. Iodized Salt
1 tsp. baking soda
1/2 c. vegetable oil
1/4 c. Cane Sugar
Directions
Put the 1 cup of buttermilk and the wheat in the blender. Blend on high for 3 minutes.
Add remaining ingredients and blend on high for 2 minutes.
Pour batter onto hot griddle and cook on each side until golden brown.
*Make your own buttermilk by pouring 1 Tbsp. of apple cider vinegar into a 1-cup measure. Pour in enough milk to reach the 1-cup mark. Allow to site for 5 minutes before using. **If your pancake batter is too runny, allow the batter to rest for 10-15 minutes. Then, if it's still too runny, add 1/4-cup of wheat ker- nels and blend again. Just make sure you blend long enough to break down the new kernels. All blenders are different, so use your best judgement for length of time and speed. You just want to make sure the kernels break down so the batter will be smooth.
---