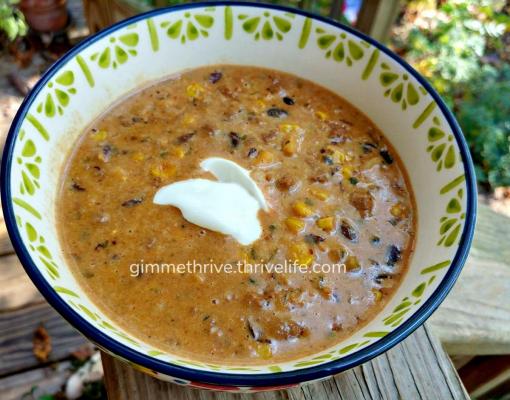 "Gimme Thrive" Cheesy Enchilada Chili
By Thrive Life · 10 servings
5m prep time
20m cook time
If you're a fan of store-bought salsa con queso (or if you just have a lot leftover from a church activity!) then this is the recipe for you! - by Julie Finlayson
Print recipe
---
Ingredients
1 1/2 c. THRIVE Instant Black Beans
4 1/2 c. water
2 c. THRIVE Ground Beef (Hamburger) - Freeze Dried
3 c. THRIVE Sweet Corn - Freeze Dried
1 1/2 c. THRIVE Potato Dices - Freeze Dried
2 tbsp. THRIVE Green Chili Peppers - Freeze Dried
1/2 tsp. THRIVE Chicken Bouillon
1 tsp. THRIVE Beef Bouillon
6 c. water
2 tbsp. Dry Taco Seasoning Mix
1/2 c. THRIVE Sour Cream Powder
15 oz. Salsa Con Queso (such as Tostito's brand)
2 tbsp. Cilantro
1/2 c. THRIVE Béchamel (Creamy White Sauce)
Directions
Add black beans and the 4 1/2 cups water to a large pot or Dutch oven. Bring to a boil and allow to cook for 10 minutes, or until beans are mostly cooked through.
Add the beef, veggies, bouillons, 6 cups water, and taco seasoning. Stir to combine and simmer for 10 minutes, stirring often.
Add the remaining ingredients and simmer until warmed through.
---