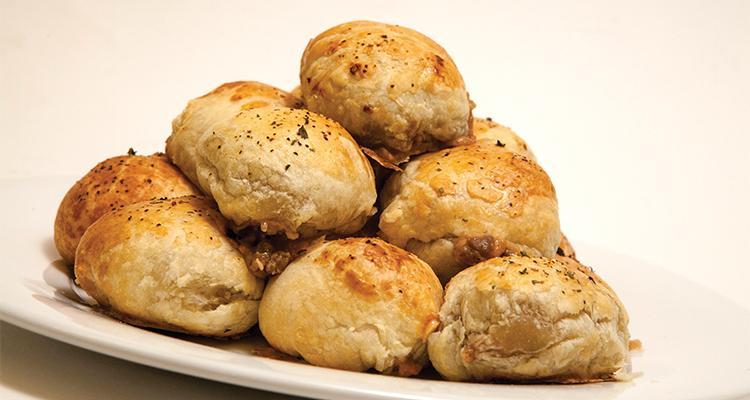 Mini Beef Wellington
By Thrive Life · 18 servings
15m prep time
15m cook time
As an entree or dinner, this rich mini wellington is sure to leave you stuffed! by Todd Leonard CEC
Print recipe
---
Ingredients
1 tbsp. 1 tbsp.
1 tsp. Garlic, minced
1/2 c. THRIVE Tomato Dices - Freeze Dried
1/2 c. THRIVE Mushroom Pieces - Freeze Dried
3/4 c. Water
1 tsp. Parsley
1 tsp. Oregano
2 tsp. Worcestershire sauce
3 tbsp. THRIVE Espagnole (Savory Beef Gravy)
1 tbsp. THRIVE Velouté (Rich Chicken Gravy)
1/2 c. THRIVE Shredded Parmesan Cheese - Freeze Dried reconstituted
2 oz. Cream cheese, softened
1 1/2 c. Meat Base, see recipe
1 pkg. Puff Pastry Sheets
2 tbsp. THRIVE Scrambled Egg Mix
3 tbsp. Water, to mix with eggs for egg wash
Directions
Sweat butter and garlic together in a medium sauce pan, add in mushrooms and tomatoes and toast for 30 seconds.
Add in water, then herbs, Worcestershire, and sauce mixes and cook until thick.
Remove from heat and fold in Parmesan, cream cheese, and meat base.
Spread thawed puff pastry sheets out and cut them into 9 square pieces.
Place 1-2 tablespoons of filling in the middle and fold sides up and crimp.
Should be a sealed round ball.
Place balls on sprayed sheet pan and brush with egg wash.
Sprinkle with herbs and Chef's Choice seasoning.
Bake at 400 for 12-15 minutes or until brown.
---