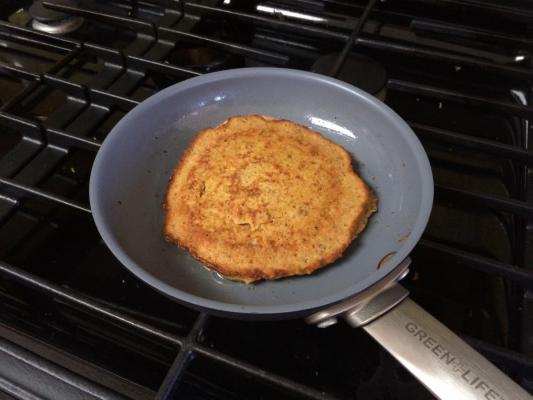 Paleo Sweet Potato Pancakes
By Thrive Life · 2 servings
15m prep time
10m cook time
by Leslie Kucinskas on October 29, 2014 High Protein Pancakes suitable for those following a Paleo Lifestyle Diet containing no wheat, gluten, dairy, or sugar.
Print recipe
---
Ingredients
1/2 C THRIVE Sweet Potatoes
2 Eggs or THRIVE Scrambled Eggs
1 Tbsp Coconut Flour
1 tsp Ground Cinnamon
1/4 tsp Baking Powder
1/4 tsp Vanilla Extract
Directions
Before Mixing the Pancakes: Pulverize 1/2 cup of Thrive Freeze Dried Sweet Potatoes using a food processor then add 1/2 cup of water and allow the sweet potatoes to hydrate for 10 minutes. Now use 1/2 cup of these "mashed sweet potatoes" in the following recipe.
After preparing the Mashed Sweet Potato, combine with eggs whisking them thoroughly. If the mix is too thick to pour in pan, add a 3rd egg, if not continue.
Stir in the remaining ingredients, except the coconut oil and cinnamon sprinkle.
Mix until well incorporated.
Heat a frying pan over medium heat, melt the coconut oil, and spoon roughly 1/4 cup batter onto the pan. Sprinkle with cinnamon. Let cook until you see bubbles forming and the pancake is firm enough to flip. Flip. Cook for another couple of minutes until lightly browned.
Serve with a splash of maple syrup.
---