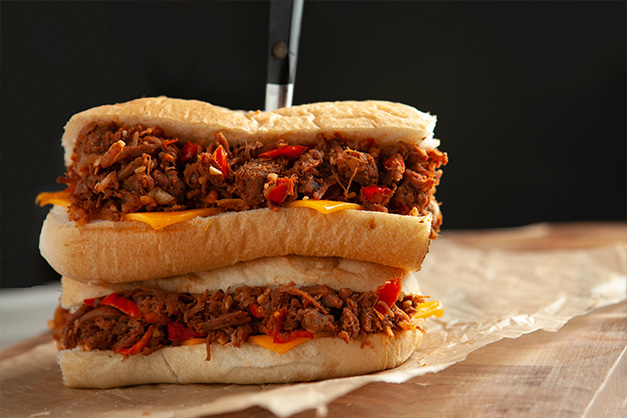 Shredded Beef Sandwich
By Thrive Life · 1 servings
5m prep time
10m cook time
We love making sandwiches. But especially eating them. It's nice when a recipe is tasty, and even better when it's easy. Thrive Life's freeze dried shredded beef and veggies make this quick recipe take only 15 minute. Throw sizzling shredded beef in a pan and get it rolling with onions, red bell peppers, and a sauce that's to die for. Stir up soy sauce, tomato paste, garlic and beef broth. Soak the meat and veggies in this savory sauce, toss it in a bun, and chow down. Excellent recipe for lunch and dinner.
Print recipe
---
Ingredients
2 cups Thrive Life Shredded Beef
1 cup Thrive Life Onion Slices
1 cup Thrive Red Bell Peppers
1 cup Beef broth*
1/2 cup water
1/8 cup soy sauce
1/4 cup tomato paste*
2 Tbsp. minced garlic*
4–6 french bread rolls, split and warmed
4–6 slices of cheddar cheese
Directions
In a medium sauce pan, combine shredded beef, onions, red bell peppers, beef broth, tomato paste, soy sauce, and garlic. Simmer for 10 minutes or until liquid is reduced, Spoon on rolls and top with cheese.
---