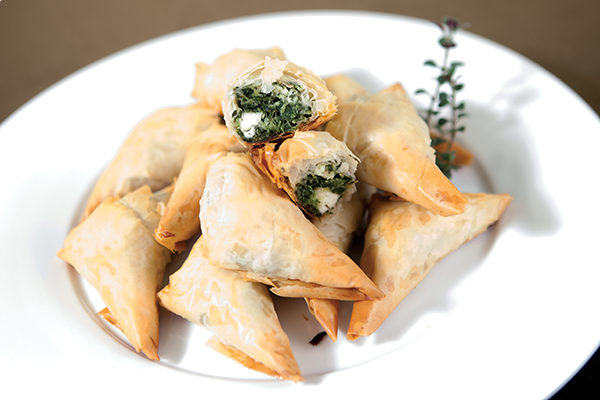 Spanakopita
By Thrive Life · 1 servings
20m prep time
20m cook time
A crowd-pleaser every time! by Todd Leonard CEC
Print recipe
---
Ingredients
3 c THRIVE Chopped Spinach - Freeze Dried + 3/4 c. water
8 oz Feta cheese
1/2 c THRIVE Shredded Mozzarella Cheese - Freeze Dried (reconstituted)
1 tbsp Whole Egg Powder + 2 tbsp. water
1/2 tsp Iodized Salt
1/4 tsp Peppercorn
1 tsp THRIVE Chefs Choice
1 lb Phyllo dough (1 box)
1/2 c Butter (1 stick)
1/4 c THRIVE Chopped Onions - Freeze Dried (reconstituted)
1 tbsp Butter
Directions
Sweat onions with 1 tbsp. butter until caramelized.
Mix together onions, spinach, cheeses, egg, and seasonings in a bowl.
Spread one sheet of phyllo dough on a clean work surface and brush with butter. Add another two layers and brush again with butter. Cut dough into 2-inch wide strips.
Place 1 tbsp. of filling on the edge of each strip and roll up into a triangle like you would fold a flag.
Place spanakopita on a baking sheet and bake at 375F for 15–20 minutes or until browned.
---