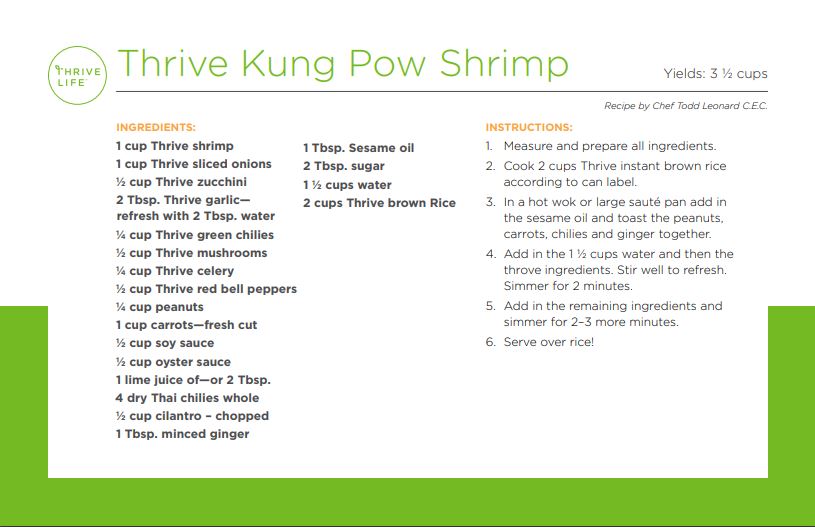 Thrive Kung Pow Shrimp
By Thrive Life · 1 servings
2021 Convention Recipe by Chef Todd Leonard CEC
Print recipe
---
Ingredients
1 cup Thrive shrimp
1 cup Thrive sliced onions
½ cup Thrive zucchini
2 Tbsp. Thrive garlic— refresh with 2 Tbsp. water
¼ cup Thrive green chilies
½ cup Thrive mushrooms
¼ cup Thrive celery
½ cup Thrive red bell peppers
¼ cup peanuts
1 cup carrots—fresh cut
½ cup soy sauce
½ cup oyster sauce
2 Tbsp. lime juice
4 dry Thai chilies whole
½ cup cilantro – chopped
1 Tbsp. minced ginger
1 Tbsp. Sesame oil
2 Tbsp. sugar
1 ½ cups water
2 cups Thrive brown Rice
Directions
Measure and prepare all ingredients
Cook 2 cups Thrive instant brown rice according to can label.
In a hot wok or large sauté pan add in the sesame oil and toast the peanuts, carrots, chilies and ginger together.
Add in the 1 ½ cups water and then the throve ingredients. Stir well to refresh. Simmer for 2 minutes.
Add in the remaining ingredients and simmer for 2–3 more minutes.
Serve over rice!
---