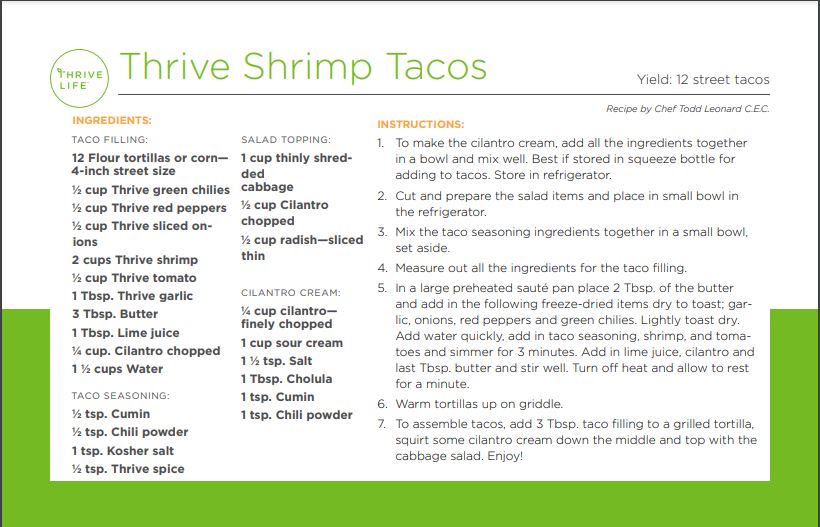 Thrive Shrimp Tacos
By Thrive Life · 12 servings
2021 Convention Recipe by Chef Todd Leonard CEC
Print recipe
---
Ingredients
12 Flour tortillas or corn— 4-inch street size
½ cup Thrive green chilies
½ cup Thrive red peppers
½ cup Thrive sliced onions
2 cups Thrive shrimp
½ cup Thrive tomato
1 Tbsp Thrive garlic
3 Tbsp. Butter
1 Tbsp. Lime juice
¼ cup. Cilantro chopped
1 ½ cups Water
½ tsp. Cumin
½ tsp. Chili powder
1 tsp. Kosher salt
½ tsp. Thrive spice
1 cup Thinly shredded cabbage
½ cup Cilantro chopped
½ cup Radish—sliced thin
¼ cup Cilantro— finely chopped
1 cup Sour cream
1 ½ tsp. Salt
1 Tbsp. Cholula
1 tsp. Cumin
1 tsp. Chili powder
Directions
To make the cilantro cream, add all the ingredients together in a bowl and mix well. Best if stored in squeeze bottle for adding to tacos. Store in refrigerator
Cut and prepare the salad items and place in small bowl in the refrigerator
Mix the taco seasoning ingredients together in a small bowl, set aside
Measure out all the ingredients for the taco filling.
In a large preheated sauté pan place 2 Tbsp. of the butter and add in the following freeze-dried items dry to toast; garlic, onions, red peppers and green chilies. Lightly toast dry. Add water quickly, add in taco seasoning, shrimp, and tomatoes and simmer for 3 minutes. Add in lime juice, cilantro and last Tbsp. butter and stir well. Turn off heat and allow to rest for a minute.
Warm tortillas up on griddle.
To assemble tacos, add 3 Tbsp. taco filling to a grilled tortilla, squirt some cilantro cream down the middle and top with the cabbage salad. Enjoy!
---