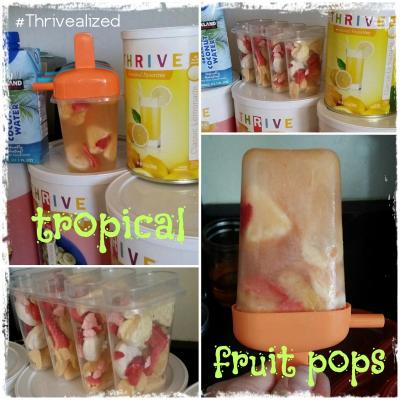 Tropical Fruit Popsicles
By Thrive Life · 4 servings
Kids will love these fruity and refreshing treats and so will you! No sugar added, real Thrive fruits, replenishing coconut water, and Classic Lemonade! by Nancy Barter
Print recipe
---
Ingredients
1/4 c. THRIVE Peach Slices
1/4 c. THRIVE Pineapple
1/4 c. THRIVE Strawberry Slices
1/4 c. THRIVE Banana Slices
1 tsp. THRIVE Classic Lemonade (Seasonal)
11 oz. Coconut Water
Directions
In a 4-cavity popsicle mold, divide the fruits evenly into each cavity, breaking if necessary.
Pour coconut water into a large (2 cup or larger) measuring cup and add Classic Lemonade Powder. Stir until powder is dissolved.
Pour coconut water mixture into molds and let sit 20-30 minutes for fruit to absorb and sink into molds. Use a spoon, or the popsicle stick to push the fruit into the molds. Secure sticks.
Freeze for 4 hours or overnight. Release from mold, using warm water if needed and enjoy!
---