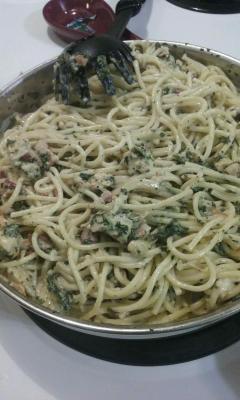 Tuscan Chicken Spaghetti
By Thrive Life · 6 servings
15m prep time
20m cook time
A hearty, filling pasta dish made easier with THRIVE! - by Hila Wood
Print recipe
---
Ingredients
1 c. THRIVE Chopped Spinach - Freeze Dried
1 c. THRIVE Tomato Dices - Freeze Dried
1 1/4 c. THRIVE Seasoned Chicken Slices - Freeze Dried
4 sli. Bacon
1 clv. 1 Clove - Garlic, Raw, minced
1/2 tsp. THRIVE Chefs Choice
1/4 tsp. Basil
1 c. Heavy Whipping Cream
5 c. Cooked spaghetti noodles
1/4 c. THRIVE Shredded Parmesan Cheese - Freeze Dried refreshed
Directions
In a large bowl, combine tomatoes, spinach, and chicken slices (preferably with chicken slices on the bottom). Cover with boiling water (I used pasta water). Set aside and allow to rest while working on following steps.
Heat a large frying pan over medium heat.
Cut bacon strips into pieces and add to heated pan. Cook until done, but not too crisp.
Add minced garlic and saute 30 seconds.
Add chicken, tomato, and spinach mixture to frying pan, and increase the heat to medium-high. Bring to a boil. Reduce heat and simmer until most of the liquid has evaporated.
Stir in heavy whipping cream, Chef's Choice, and Basil.
Add spaghetti and gently toss to coat and mix. Top with parmesan.
---