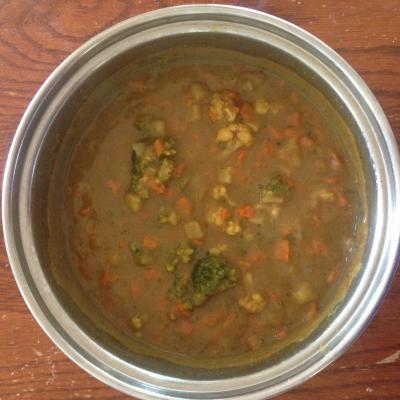 Vegan Curry in a jar
By Thrive Life · 4 servings
5m prep time
15m cook time
I made this recipe a little less spicy so my kids to eat it, but feel free to add extra curry powder if you want more punch. I also debated on whether or not the coconut was necessary, so I have included that as an optional ingredient. - by Sabrina W
Print recipe
---
Ingredients
1/2 c. THRIVE Cauliflower- Freeze Dried
1/4 c. White Flour (All Purpose Unbleached Flour) you could easily substitute this with gluten free flour to make this a GF dish
1 c. THRIVE Potato Dices - Freeze Dried
1/2 c. THRIVE Mashed Potatoes
1 1/2 tsp. Iodized Salt
1 tbsp. Garlic Powder
1 1/2 tsp. Curry Powder
1 tbsp. Garam Masala seasoning
1 tsp. Ground Ginger
1 tsp. Cane Sugar
1 tsp. Cumin Powder
1/2 tsp. THRIVE Chicken Bouillon This is actually vegetarian bouillon
1/2 tsp. THRIVE Chefs Choice
1/2 tsp. Tomato Powder
1/2 c. THRIVE Chopped Onions - Freeze Dried
1/2 c. THRIVE Broccoli - Freeze Dried
1/3 c. THRIVE Carrot Dices
1/2 c. THRIVE Coconut Bites - Snackies Pouch Optional
Directions
Layer all ingredients in the order listed into a wide-mouth quart sized mason jar. Shake ingredients down as they are being measured in to make room for everything.
When ready to use, dump contents of the jar in a saucepan with 6 cups cold water.
Bring to a boil on the stove, then turn stove down to low and simmer for 10 minutes, stirring occasionally.
Serve on top of rice. Enjoy!
---