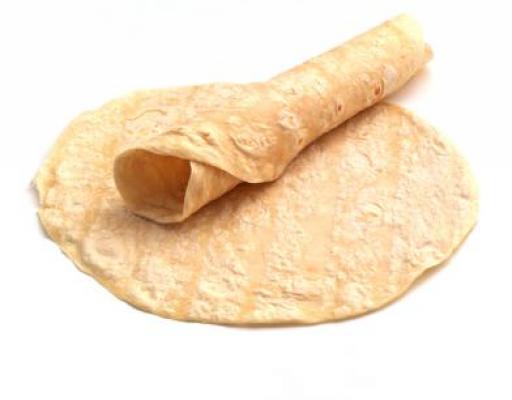 Whole Wheat Tortillas
By Thrive Life · 20 servings
30m prep time
15m cook time
Breakfast burritos, tacos, even a quick peanut butter & jam treat - tortillas can do it all. - by Guest
Print recipe
---
Ingredients
1 c. White Flour (All Purpose Unbleached Flour)
4 c. Whole Wheat Flour
1/2 c. shortening
2 tsp. Iodized Salt
2 1/4 c. water, boiling
Additional flour for rolling
Directions
Sift together white flour, whole wheat flour, and salt. Add shortening with fork, pastry cutter or hands and mix until crumbly.
Make a well in the center of the mixture, then pour boiling water in the well. Mix with a fork until all of the water is evenly incorporated. Dough should be soft and not sticky. If dough is too flaky, add more water 2 tablespoons at a time until dough comes together.
Sprinkle with a bit of additional flour and knead until the dough does not stick to fingers.
Make balls the size of golf balls and place them on a tray. Cover your dough with a cloth and let it sit for an hour.
Heat a griddle or large frying pan over high heat.
On a lightly floured surface, roll out a tortilla as thinly as you prefer. Fry the first side for approximately 10 seconds until you see a bubble form in the middle of the tortilla. Flip the tortilla over and let it cook for approximately 30 additional seconds. Flip the tortilla once more and let it cook for 30 seconds more.
---