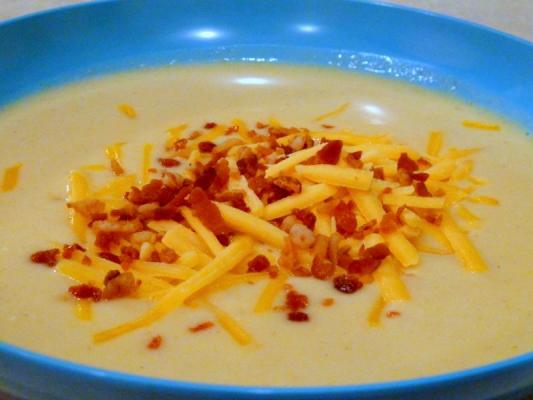 Zupa's Wisconsin Cauliflower Soup - Thrivealized!!
By Thrive Life · 6 servings
15m prep time
10m cook time
This is my daughter's favorite soup. My Thrivealized version was born one snowy day when she wasn't feeling well and that was the ONLY thing that she wanted. - by Tammy Hogan
Print recipe
---
Ingredients
3 1/2 c. Water
4 c. THRIVE Cauliflower- Freeze Dried
1/3 c. THRIVE Chopped Onions - Freeze Dried
1/4 c. THRIVE Green Chili Peppers - Freeze Dried
2 tsp. THRIVE Chicken Bouillon
3 tbsp. Butter, salted
1/4 c. White Flour (All Purpose Unbleached Flour)
1 1/2 c. THRIVE Instant Milk reconstituted
1/2 c. Light Whipping Cream
1 tsp. Dijon Mustard
1 1/2 c. THRIVE Shredded Cheddar Cheese - Freeze Dried reconstituted
1/2 c. THRIVE Shredded Monterey Jack Cheese - Freeze Dried reconstituted
Directions
Put 1st 5 ingredients in saucepan and turn on medium heat.
While the veggies are heating, make a roux in a separate pan by first melting the butter. Add flour, stirring until it is smooth, then add milk and cream, stirring continually.
continue to stir or whisk until the roux is smooth. The roux will begin to thicken and bubble, continue to simmer for 2 minutes, stirring.
As you were making the roux, the vegetables should have come to a boil for a couple minutes. Add the roux to the cooked veggies. Stir to combine.
Carefully pour the soup mixture into a blender - be careful not to overfill. (Venting the blender using the small removable cap in the lid helps keep steam from building up.) Blend until smooth and return to clean pan.
Add cheeses and mustard to the soup, and heat until cheese is melted and smooth. Season with salt and pepper to taste.
Sometimes I will add some extras: more cheese, croutons, sprinkle THRIVE salad seasoning, and/or bacon crumbles. It is also fantastic with you just add a spoon.
---