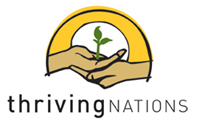 "I was blessed with this program. Now we are very happy; I have knowledge of a different reality."
Fabiola's Story
Fabiola Churuchumbi is one of the participants in the Thriving Nations program in Ecuador. When she found out about the program in her home town of Cochas through local community leaders, she was skeptical at first. Her village had never been visited or helped by any institution, and the concepts being introduced to them were unfamiliar.
But only a few short years later, we had the privilege of having Fabiola speak at our 2013 convention about how the program in Ecuador has changed her life and those of many others in her village. She had never left Ecuador and never been on an airplane, seen snow, turned on a shower, or ridden an escalator. It was quite the experience for her, and she stole the show during her speech at convention! She also brought some handmade crafts to sell at the convention and made $1,427 within only two hours, while her average monthly income is only $50–60! With the help of our consultants and customers, Thriving Nations is making a real difference in the lives of thousands of people just like Fabiola.
A Note from Fabiola
"Before I was introduced to the program, I cultivated my plot in a rudimentary way. I lived with my animals inside the house. I used to get sick more frequently. I was not aware I should have the house clean, and wash hands before eating. I did not have any idea of how to eat varied food, and I did not know about vitamins, protein, or fiber. I did not know how to store food for my family.
I was blessed with this program. Now we are very happy; I have knowledge of a different reality. I now know how to cultivate a variety of crops of different nutritional values for use in feeding my family. I have learned how to raise small animals in a better way. I know how to save food for future consumption, and I store the food I harvest in my plot to mix with vegetables that I grow in my own garden. I never ate so many vegetable as I do now. In my garden I have carrots, onions, chards, cabbages, spinach and so much more.
The program has influenced the community in a very good way, and I recommend it to the families that are not involved. The families that are not part of the program have seen the change in the participants' crops, animals, and the knowledge of nutrition for our families. More people are now involved in the program and are aware of the responsibility they have to feed their families well. We are very excited.
I want to thank all the people that work with us, even the people in other countries we have not met. Thanks to each one of you, for all the efforts that you make to help us. Thank you, and may God give you always more."