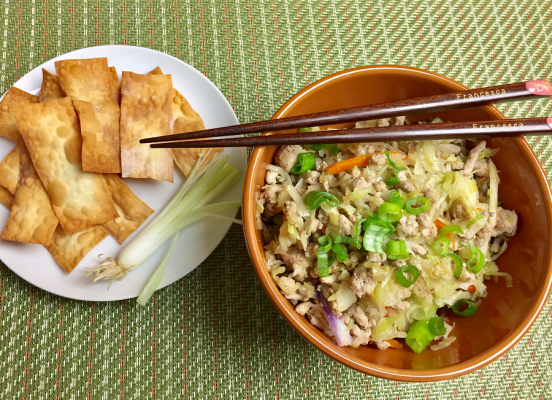 Chicken & Veggie Egg Roll in a Bowl – Stars
By Thrive Life · 4 servings
This recipe created for Thriving with the Stars using Francesca's Core Ingredients. Swap out the Thrive ingredients to suit your family.
Print recipe
---
Ingredients
1 c. THRIVE Seasoned Chicken Slices - Freeze Dried
1 c. THRIVE Zucchini - Freeze Dried
1/2 c. THRIVE Red Bell Peppers - Freeze Dried
1/2 c. THRIVE Onion Slices - Freeze Dried
1 c. THRIVE Mushroom Pieces - Freeze Dried
1/2 c. THRIVE Celery - Freeze Dried
2 c. Water
2 clv. Garlic, minced (or equivalent garlic powder)
1 tbsp. Ginger, grated (or equivalent ginger powder)
4 c. Shredded Cabbage (or 16oz bag Shredded Cabbage, Coleslaw Mix, or Broccoli Slaw)
1/4 c. Soy Sauce (or Coconut Aminos) * More or less to taste
2 tbsp. Sesame Oil
1 tbsp. Oil (vegetable, olive, avocado, one of your choice)
2 Scallions, sliced
Egg roll wrappers or wonton wrappers for garnish, Sriracha or Sweet Thai Chili Sauce, or red pepper flakes
Directions
For Wrappers:
Preheat oven to 400°. Cut wrappers in strips and lay in a single layer on a baking sheet.
Brush lightly with oil.
Bake for about 4-5 minutes. Keep an eye on them!
Main Dish
In a large skillet, if using fresh ginger and garlic, sauté in oil.
Add chicken, zucchini, red bell peppers, onions, mushrooms, peas, and water. Simmer and allow chicken to refresh, about 5 minutes. * If using garlic powder, ginger powder add at this point.
Once chicken has refreshed blend in the cabbage and sauté until softened. This should take about 8 minutes.
Added Soy Sauce, using more or less for your liking.
Taste for seasoning, you may need to add salt or the optional seasonings
For the finish, drizzle on the Sesame Oil, and you are ready to serve.
Garnish with scallion slices
Tips: This is great alone or served over steaming rice.
---