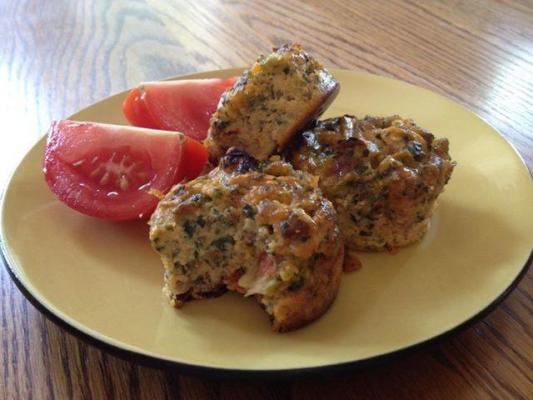 Egg Muffins - no flour
By Thrive Life · 4 servings
10m prep time
20m cook time
oh my goodness, so easy. So delicious. So nutritious. Thrivelized from a recipe that came from the WHEAT BELLY COOKBOOK. -by Cindy Suelzle
Print recipe
---
Ingredients
1 c. THRIVE Scrambled Egg Mix this = 8 eggs if you're substituting fresh eggs
2 c. Water - don't use if you're using fresh eggs instead of THRIVE
1 c. THRIVE Sausage Crumbles - Freeze Dried
1 c. THRIVE Shredded Cheddar Cheese - Freeze Dried
1 tsp. THRIVE Green Onions - Freeze Dried
1 c. THRIVE Broccoli - Freeze Dried
1/2 c. THRIVE Chopped Spinach - Freeze Dried
1/2 c. THRIVE Red Bell Peppers - Freeze Dried crumble a little, using mostly for colour
1/2 c. Water - adding later on
Directions
Beat the eggs, add cheddar and let set for about 10 minutes to rehydrate cheese.
Add sausage, onion, tomato powder. Stir well. Add 1/2 cup water to accommodate rehydrating
Add brocolli, spinach and peppers (broken up a bit). Fold vegetables in. Original recipe called for basil, oregano, salt and chives, but I thought the sausage crumbles were flavourful enough and I wanted to taste the cheddar and spinach so I didn't add anything for seasoning.
Spray a muffin tin, spoon evenly into the 12 cups - making sure each has similar vegetables and egg mixture.
Bake at 350 for 20-25 minutes. Test with toothpick.
I used my new silicone muffin tin and I loved it. I loosened around the edges with a toothpick and then popped them out with a butter knife.
---