Guilt Free
Grown and ripened on a family farm, our food maintains their nutrition and flavor without adding anything sketchy—so what you're eating is clean, raw and real.

On The Go
Eating a juicy peach can be…messy. Instead, just open the bag, grab a few slices, and keep going. No napkins required.

Tasty
Ever tasted a freshly picked pineapple in Costa Rica? Open the bag and you will! Freeze drying makes it happen.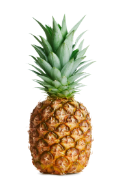 Freeze Dried Food
By simply removing the moisture, we get fresh fruits and veggies that stay fresh for months without preservatives. Could fresh strawberries do that?

Join Thousands of Guilt-Free Snackers
---


"Instead of chips, I eat the Banana Snackies before football practice."
Parker S.
HIGH SCHOOL STUDENT


"Pineapple Snackies are the perfect late-night snack!"
Jamie L.
ESTHETICIAN INSTRUCTOR


"I think my favorite part is that when I looked at the ingredients, it just says strawberries!"
Scott R.
YOUTH MENTOR