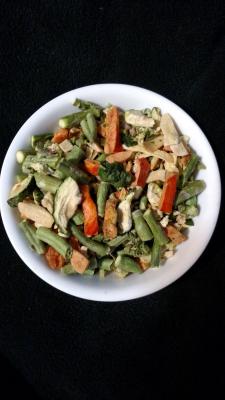 THRIVE Spicy Low Carb Roasted Veggie Snack Mix
By Thrive Life · 16 servings
5m prep time
15m cook time
A healthy snack option that can easily be taken on the road or eaten at home. Great way to get veggies into your non-veggie family members. Low Sodium but still has lots of flavor. Can easily be made Vegan or Vegetarian. by Kevin & Janiene Rise
Print recipe
---
Ingredients
1 c THRIVE Asparagus - Freeze Dried
1 c THRIVE Cauliflower- Freeze Dried
1 c THRIVE Red Bell Peppers - Freeze Dried
1 c THRIVE Green Beans - Freeze Dried
1 c THRIVE Zucchini - Freeze Dried
1 c THRIVE Onion Slices - Freeze Dried
1 c THRIVE Tomato Dices - Freeze Dried
1 c THRIVE Kale - Freeze Dried
1/2 c THRIVE Green Chili Peppers - Freeze Dried
1 c THRIVE Sausage Crumbles - Freeze Dried
1 c THRIVE Shredded Cheddar Cheese - Freeze Dried
3 cloves minced fresh garlic (Replace with FD Garlic when THRIVE adds it to product line.) ;D
1 tsp Bolner's Fiesta Brand Extra Fancy Taco Seasoning. See Link to order: https://www.fiestaspices.com/authentic-mexican/taco-seasoning/OR Seasoning of your choice (try THRIVE Butter Powder, Cheese Blend Powder, Sour Cream Powder or other brand ranch, fajita
1/2 c Coconut, Olive or other Oil
Directions
In a sauce pan, gently heat the coconut oil, minced garlic and seasoning until the garlic is cooked.
In a large cake pan or cookie sheet: gently mix together all the vegetables (dry, not reconstituted)
Drizzle oil mixture over the veggies, while gently stirring Bake at 250 for 12-18 minutes stirring every 3 minutes.
Watch & stir - to prevent over toasting (you can burn or over toast veggies if you don't watch them closely)
After removing from the oven add dry Sausage Crumbles & Cheddar Cheese.
Store in closed container
Save the crumbs at the bottom of the container for soups, omlets, scrambled eggs or mix with some THRIVE Sour Cream to make a great Dip or topping for potatoes, on grilled Zucchini & etc.
---